"Within four months at WILDD, our daughter started to read remarkably better.  She obviously still had difficulty, but she had a level of confidence we had never witnessed in her.  Her teachers were less frustrated with her and there were fewer arguments at home about homework.  Our only frustration now is that it took so long to find WILDD.  Sending our daughter to this place was the right choice for our entire family." – parents of WILDD client
Our approach works! WILDD has a track record of raising reading by three grade levels in six months.  The charts below illustrate our clients' growth using the WILDD CLASS™ method of academic therapy.  For additional information about our testing and results, please feel free to contact our Director of Research and Diagnostics, Kim Carpenter, at 608-824-8980.
Please visit our Testimonials page to hear, first hand, from some of our clients.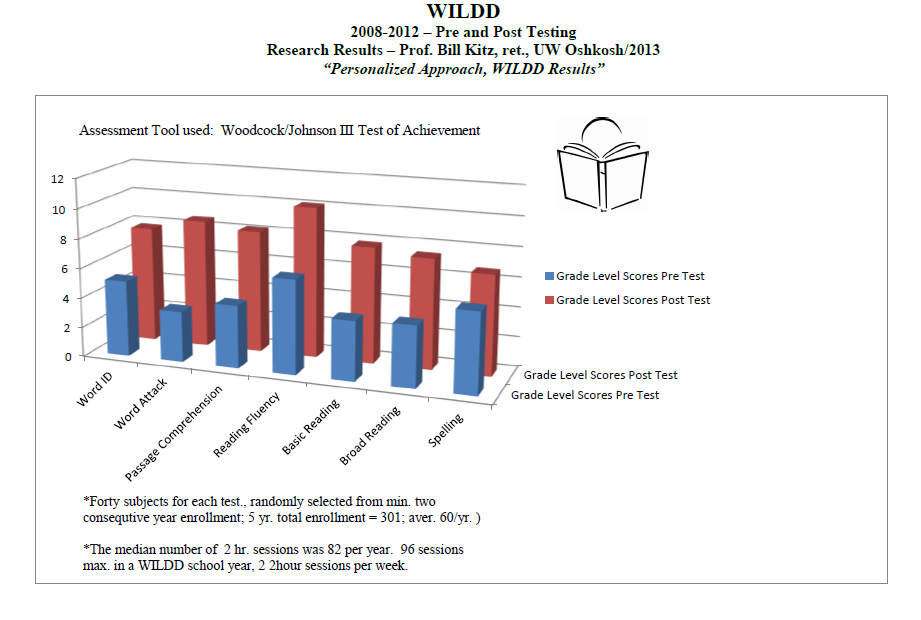 1Data derived from 2012 results.
2Growth measures the improvement, in terms of equivalent grade level, of the associated skill.
Client Growth in Years1
Skill
Growth2
What the Test Measures
Comprehension
4
A measurement of the client's ability to understand what he or she reads.
Reading Skills
3.8
A measurement of the skills necessary to be a good reader. It includes vocabulary, phonics and the ability to analyze the structure of a word
Fluency
3.8
A measurement of the ability to read sentences smoothly and quickly while understanding them as expressions of complete ideas.
Spelling
1.3
A measurement of the ability to write orally-presented words with accuracy. Encoding is another word for spelling.
Decoding/Phonics
5.2
A measurement of the ability to analyze an unfamiliar word and pronounce it correctly using specific rules. Decoding is using phonetic rules to read unfamiliar words.
Broad Reading
3.2
An overall measurement of a client's ability to read based on their performance in decoding, fluency and comprehension.
1This quantifies the effectiveness of a particular intervention.
2Effect Size of 1 to 0.3 is a small effect, 0.3 up to 0.5 is a medium effect and 0.5 and above is a large effect.
Effect of Intervention1
Skill
Effect Size
Size2
Comprehension
4
Large
Reading Skills
3.8
Large
Fluency
3.8
Large
Spelling
1.3
Large
Decoding/Phonics
5.2
Large